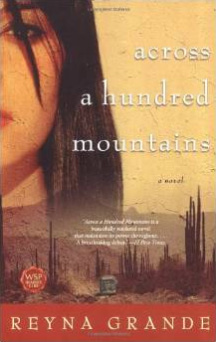 Across a Hundred Mountains is a stunning and poignant story of migration, loss, and discovery–as two women, one born in Mexico, one from the U.S., find their lives joined in the most unlikely way.
Mexican immigration is one of the most talked about, controversial issues in the news today. Author Reyna Grande, who came to the United States when she was nine, has an insider's perspective that lends insight to this politically charged issue. Across a Hundred Mountains puts a human face on the epic story about those who make it across the border, those who never make it across, and those who are left behind.
Who are the men, women and children whose lives are affected by the forces that propel so many to risk life and limb, crossing the border in pursuit of a better life? Take the journey Across a Hundred Mountains and see.
Praise For Across A Hundred Mountains
"Grande's spare, elegantly written tale of a young Mexican girl searching for her farmworker father, missing since he left to seek his fortune in 'el otro lado', is a timely and riveting read." –People Magazine
"Grande's deft portraiture endows even the smallest characters with grace. "–Publisher's Weekly, starred review
"An affecting debut on Mexican poverty, illegal immigration and cosmic injustice. " –Kirkus Reviews
"A breathtaking debut." –El Paso Times
"Grande's heartfelt [novel] addresses a worthy subject — the desperation of illegal immigrants and the families they leave behind. " –Entertainment Weekly Colony
Awards and Recognitions
Ramona Convent Secondary School "One School/One Community" selection 2013-14
Owensboro Community & Technical College Common Reading Selection 2012
Autry Book Club (April selection) 2011
Latino Books Into Movies Award 2010
2010 Bookshop Santa Cruz Book Club pick (May)
2010 San Mateo County Library "One Book/One Community" (Spanish)
2010 City of Watsonville "On the Same Page " (community read)
2009 Schoolcraft College Campus Read & Pageturners Book Club selection
2009 Teen Author Series, Free Library of Philadelphia
2008 Required Reading–Summer Bridge Program at Taft College, CA
2007 Eastern Connecticut's "One Book/One Region"
2007 American Book Award
2007 SummerTIME Read (USC)
2006 El Premio Aztlan Literary Award
2006 UCSC Freshmen Read (Kresge & Porter)
2006 "Top Adventure Book by a Latina Author" Award, Catalina Magazine
Resources for Across a Hundred Mountains