National Book Critics Circle Awards Finalist
2014 One Maryland, One Book
2014 One Community, One Book selection from the U of Iowa Center for Human Rights
2014 Santa Rosa Junior College Reads
2014 One Book, One Community-San Juan College
2014 Rolling Meadows High School Summer Reading Program
2014-15 "Book in Common," Butte College/Chico State University
Grand Valley State University "Common Reading" 2013
California State University-Los Angeles "First Year Experience" Selection 2014
Monroe County's One Book/One Community 2014
Las Comadres Para Las Americas Book Club Nov/2012
One of the Best Adult Books 4 Teens 2012 (School Library Journal)
One of the 15 Best Books of 2012 (The Christian Science Monitor)
About The Distance Between US: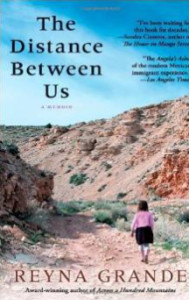 From an award-winning novelist and sought-after public speaker, an eye-opening memoir about life before and after illegally immigrating from Mexico to the United States.
Born in Mexico and raised by her grandparents after her parents left to find work in the U.S., at nine years old, Reyna enters the U.S. as an undocumented immigrant to live with her father. Filled with hope, she quickly realizes that life in America is far from perfect. Her father isn't the man she dreamed about all those years in Mexico. His big dreams for his children are what gets them across the border, but his alcoholism and rage undermine all his hard work and good intentions. Reyna finds solace from a violent home in books and writing, inspired by the Latina voices she reads. After an explosive altercation, Reyna breaks away, going on to become the first person in her family to obtain a higher education, earning a college degree and then an M.F.A. in Creative Writing.
At a time when immigration politics are at a boiling point in America, Reyna Grande is an important public voice for Mexican Americans and immigrants of every origin. The Distance Between Us has the power to change minds and hearts.
BUY IT TODAY!
Praise For The Distance Between Us:
"Reyna Grande is a fierce, smart, shimmering light of a writer with an important story to tell."
–Cheryl Strayed, author of Wild: From Lost to Found on the Pacific Crest Trail
"I've been waiting for this book for decades. The American story of the new millennium is the story of the Latino immigrant, yet how often has the story been told by the immigrant herself? What makes Grande's beautiful memoir all the more extraordinary is that, through this hero's journey, she speaks for millions of immigrants whose voices have gone unheard."
–Sandra Cisneros, author of The House on Mango Street
"The sadness at the heart of Grande's story is unrelenting; this is the opposite of a light summer read. But that's OK, because . . . this book should have a long shelf life."
–Slate
"A timely and a vivid example of how poverty and immigration can destroy a family."
–The Daily Beast
"A brutally honest book… the "Angela's Ashes" of the modern Mexican immigrant experience." –the Los Angeles Times
"A standout coming-of-age story."—Kirkus Reviews
"Grande captivates and inspires."—Publishers Weekly, STARRED Review
"…[A] touching and enormously personal memoir… puts a face on issues that stir vehement debate."—Booklist
 Resources for The Distance Between Us: