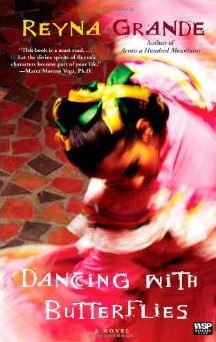 From Reyna Grande, the American Book Award-winning author of Across a Hundred Mountains, comes a new novel about the friendship of four women bound together by their Mexican roots and their love of Folklórico dance.
Dancing with Butterflies uses the alternating voices of four very different women in a Los Angeles dance company called Alegría to weave a story of friendship and love.  Yesenia, who founded Alegría, finds herself unable to dance and seeks a miracle from a plastic surgeon in Tijuana. Elena, grief stricken by the death of her child and the end of her marriage, falls dangerously in love with one of her under-age students.  Elena's sister Adriana, wears the wounds of abandonment by a dysfunctional family and becomes unable to discern love from abuse. Soledad, the sweet-tempered illegal immigrant who designs costumes for Alegría, must make the dangerous journey north after she returns to Mexico to see her dying grandmother. Reyna Grande has succeeded in bringing the world of Folklórico dance to life, with characters whose stories are so gripping, the reader cannot help but cry along with their travails and cheer their triumphs. Ajúa!!
Praise For Dancing With Butterflies
"Dancing with Butterflies is a fascinating braid of stories–masterfully woven by Reyna Grande–where four women take us on their intimate journeys of identity, womanhood, and friendship on a backdrop of the ever-colorful baile folklórico and the deepest Mexican traditions. "~Maria Amparo Escandon–Author of Esperanza's Box of Saints and Gonzalez & Daughter Trucking Co.
"Just when you think you know all about friends, Grande comes along to teach you something else about love and its mysteries, about good conversation over beers, sacrifices one makes for family, and about the joys and sins of shoe stomping pride."~Helena Maria Viramontes author of Their Dogs Came with Them and The Moths and Other Stories
"Award-winning novelist Reyna Grande returns with a novel full of music, motion and heart.  Dancing with Butterflies is about four women whose stories and friendships are as rich as the Folklorico dance that brought them together.  Grande is a novelist to watch."~Tananarive Due, American Book Award winning author of Blood Colony
Awards
International Latino Book Award, Best Women's Issues January 2010
Las Comadres & Friends National Latino Book Club Selection 2010
Resources for Dancing with Butterflies